Who's faster than a speeding bullet and able to leap tall piles of laundry in a single bound?
Super Tad!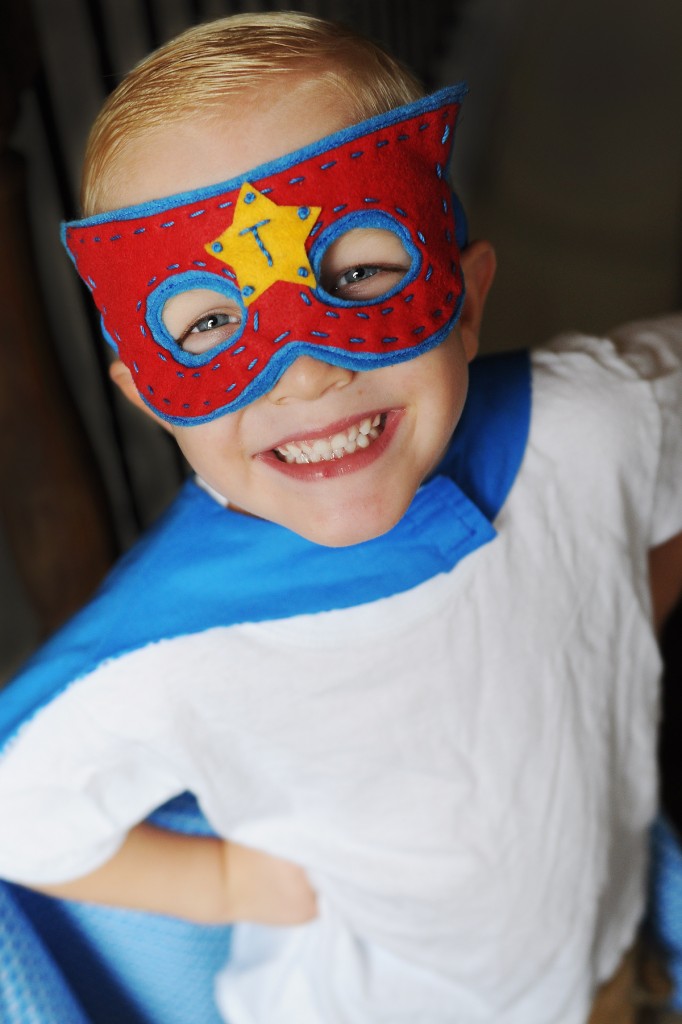 Tad brings vivacity and volume to our lives. He can't just walk down stairs. He has to jump down them several at a time. For that matter, he can't even maintain a walking tempo. His only speeds are fast and faster, and as exhausting as he is, he is an absolute joy to have around.
His favorite shows are "Greatest American Hero," "Avengers," and "The Incredible Hulk." He and I sometimes sneak over to Chick-fil-a during the day when the girls are at school, grab some lunch and then come back to have a picnic in the playroom while we watch Bill Bixby morph into Lou Ferrigno, so it seemed fitting that his birthday theme this year be super hero-based.
Tad has never had a birthday party before, so he was super excited for the big day to arrive.
To introduce the theme, I designed a fun retro-comic book inspired invitation.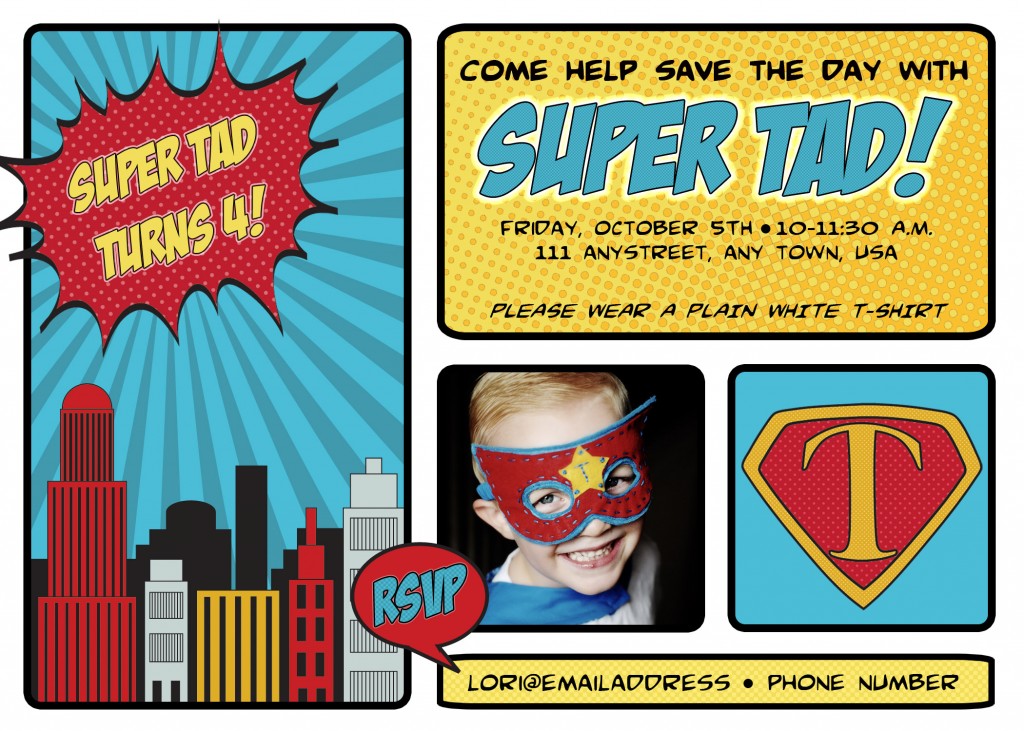 I then got the crazy idea to sew personalized capes and masks for the six invitees. (Plus I did two more mini versions as baby gifts).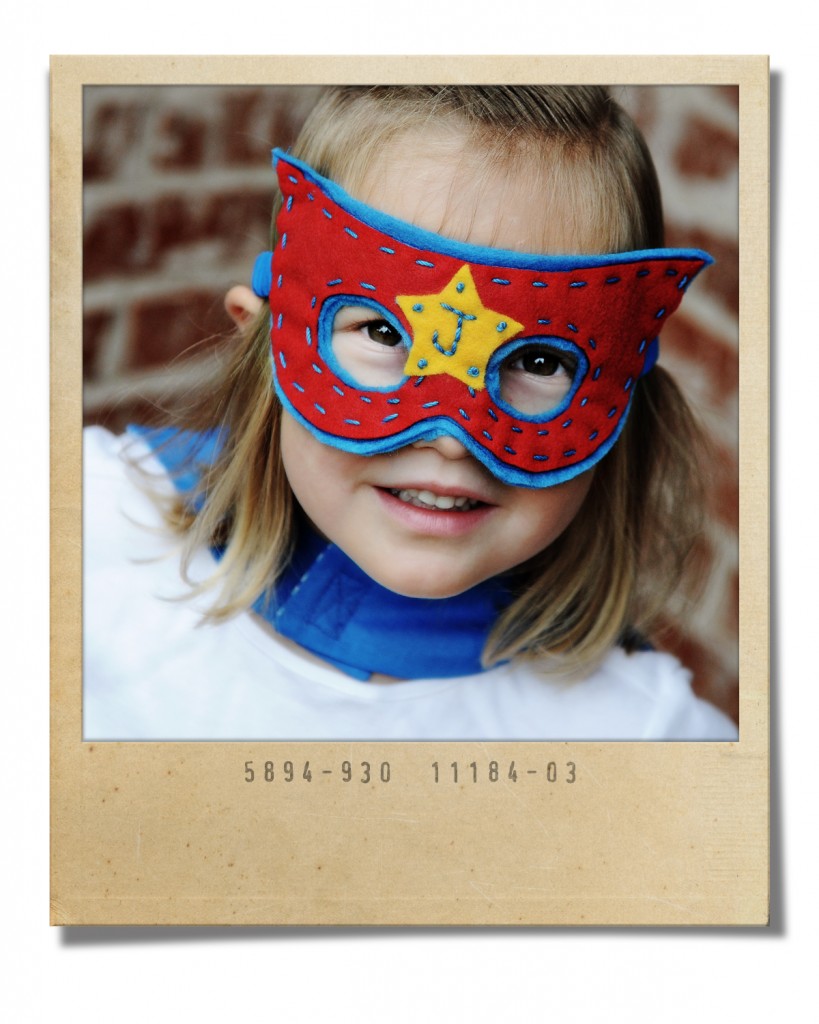 Thankfully, my Super Friends came to the rescue and helped with cupcakes, goodie bags, and crowd control on the day of the party.
I found it ironic that most of the children didn't want to have anything to do with the capes and masks . . . until some of the moms put on the outfits.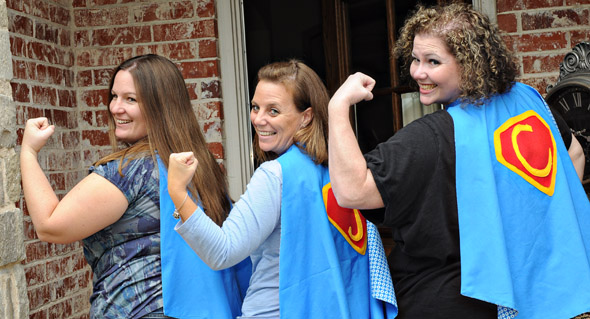 We did four games at the party:
Firewalk: Walking across a 2×4 board that was surrounded by tissue paper "flames."
Bean bag Bad Guy Toss: Try to knock over the "bad guys" (empty Crystal Light containers w/ a picture of a cute "bad guy" taped around each) with bean bags. This was the favorite game; Vivi and Tad have spent HOURS playing it over the last few days.
Diffuse the Grenades: Pop the grenade balloons. To my surprise, a couple of kids FREAKED out when they realized that popping balloons were involved.
Walking on Air: Stomping on wide strips of bubblewrap that we taped to the ground. Reviews on this activity were mixed–the balloon-phobic children were also scared of this game. Everyone else had a BLAST!
I also designed little individual photo booth style picture strips to slip into the thank you cards.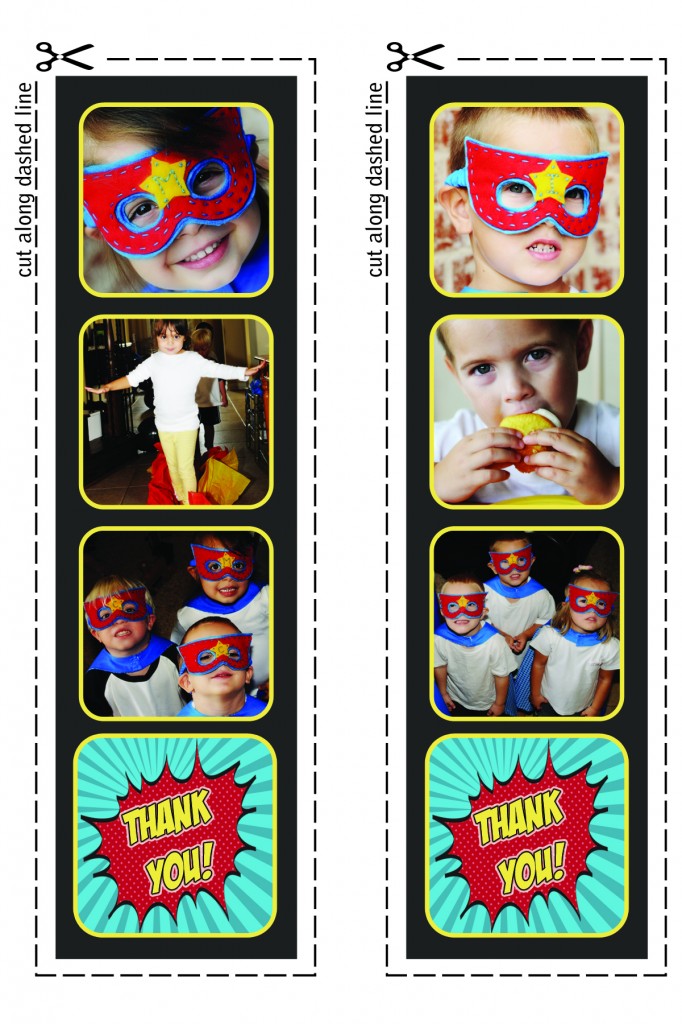 (I'm not sure why the colors went a little funky when I uploaded the file. They match the colors on the invite and printed out fine. Weird.)
One of my favorite memories of Tad's 4th birthday will be when he woke up and realized that he was no longer three. Here's how the conversation went:
Tad: "So, I'm not three anymore?"
Mom: "Nope. You're four."
Tad: "So, I'm four years old?"
Mom: "Yep. You're four."
Tad: "So do I still wear the same clothes?"
Mom: "Yep. You're four and you still wear the same clothes."
Tad: "But I'm not three anymore?"
Mom: "No, you're four."
Tad: "But the three-year-old clothes in my drawer. Do I still wear those?"
Mom: "Yes, Tad. You are really only a day older than yesterday, and so you still fit in your clothes."
Tad: "Oh. I'm four and I still wear the clothes in my drawer?"
I think at this point, I sighed, smiled, and broke out in song: "This is the song that never ends, it just goes on and on my friend . . ."
Tad joined me and thankfully forgot about his clothes. I think the reason this verbal exchange tickles me so much is that it reminds me of myself . . . always making sure that all the angles and contingencies are covered, even though it drives others around me nutso.
Tad, my love for you is like our favorite song . . . it just goes on and on my friend . . .
Please stay my super buddy forever.