I overheard a startling conversation between Tad and Vivi a couple of weeks ago. Tad wanted to join in on an activity that Vivi was doing, but she didn't really want help from her little brother. Instead, she suggested that he go play with me.
Tad's response was both astute and painful: "But Mom's not a PLAYING mom."
OUCH!
Too often I get engrossed in finishing a project or solving a problem, and I pretty much ignore my kids. At times, the endeavors are pressing and worthy of my attention (laundry, fixing malfunction appliances, dealing with water leaks, Christmas preparations), but perhaps even the urgent things could wait for a few hours. Sadly, like a dog with a favorite bone, I sometimes find it hard to set aside my current fixation for even a little while. I'm not sure that it's a good thing, but my kids don't seem to mind being entertained by the Wii, PBS kids, or other electronic diversions.  Still, I know that I need to be doing more with them. Each night I pray that I may be granted the chance to try anew to be a better, "playing" mom, but more often than not, I fall flat on my face.
Nevertheless, I hope that heaven sees a glimmer of hope in me every once in a while.  Take today, for example.
It snowed a bit during the night. I preferred to stay inside where it was warm and putter away on projects, but instead, Tad and I bundled up and headed out back for a little snowball fight.

Neither he nor I were bothered too much by having to borrow boots from Vivi and BT.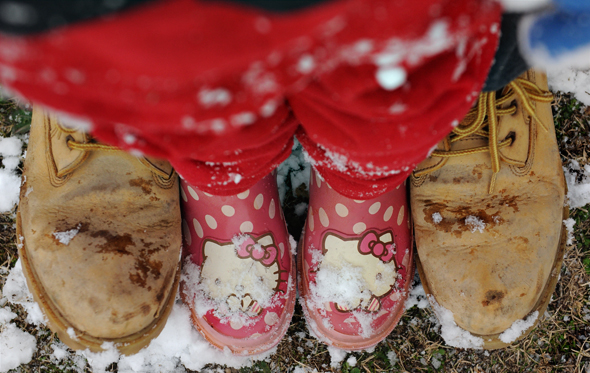 We even made a mini snowman. (His hat is half an avocado peel).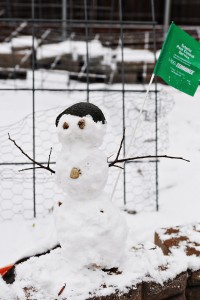 I
I hope that, by my example, my children learn to focus on a task and work hard. At the same time, I hope they fondly remember days like this when I was, indeed, a "playing" mom.