No, this is not the sick Halloween joke of a psychopath.  Sadly, this "razor lollipop" was Tad's pre-church "treat" yesterday morning.
Let me explain.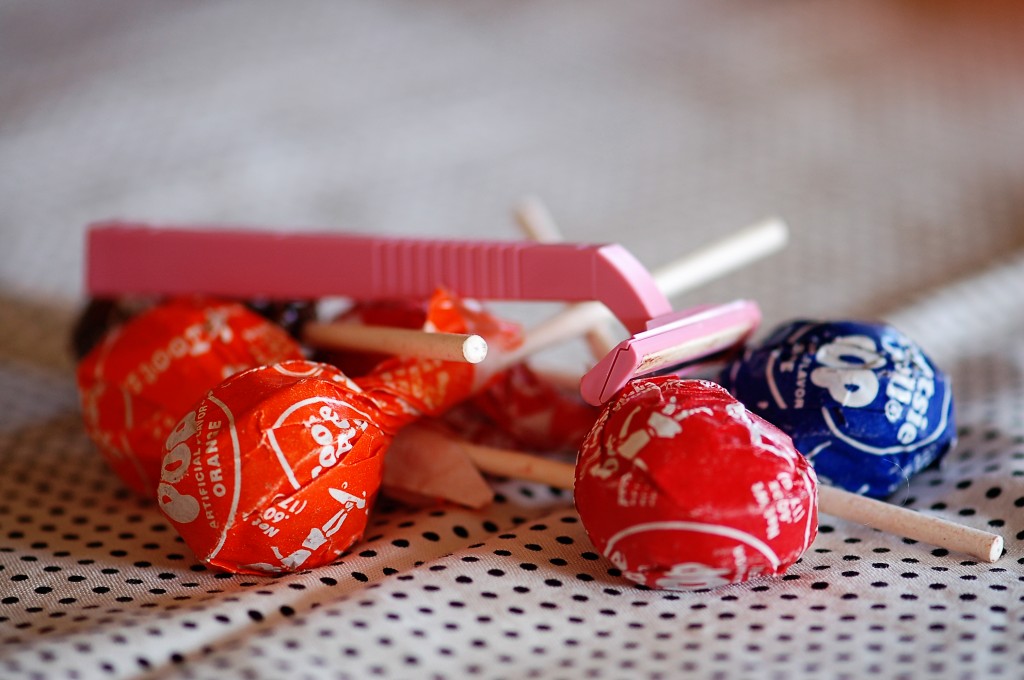 I hadn't yelled at my kids a single time–quite a feat for a busy Sunday morning. We were right on schedule and were actually going to be to church on time for a change!
Everyone was dressed in their Sunday best.  I even found Tad's belt right where it was supposed to be–in his top drawer.
Ariana's hair was presentable, pulled back in a ponytail.
Vivi stood patiently as I curled her white-blonde locks with the flat iron.
Tad occupied himself quietly by rifling through bathroom drawers.  Yes, he was making a mess.  No, it wasn't anything I couldn't clean up in a matter of minutes.
And as I put the finishing touches on Vivi's "do," Tad whined, "Mouth yucky.  Mouth yucky.  Mouth yucky."  (He says everything in three's).
To my horror, I glanced down and caught Tad with a pink disposable razor sticking out of his mouth and blood smeared all over his hands and face.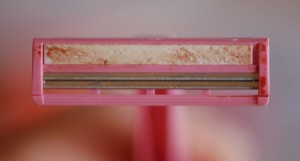 A wave of nausea swept over me, and I was suddenly drenched in perspiration as I gently wiped my baby clean, carefully examining him for cuts.  But the more I wiped, the more there was to wipe.  Where was he bleeding?  His tongue? Lips? Fingers? Face?
Several times a day as Vivi says her prayers, she utters the same words:  "Bless me to be safe.  Bless all of us to be safe."  Sometimes I am irritated by her repetition, but I gratefully reflected on these words when I discovered that, despite SUCKING on a RAZOR, only Tad's upper lip had sustained a cut.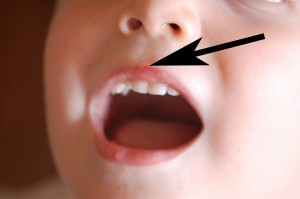 After several minutes of direct pressure, the bleeding subsided and we were able to go (late) to church.
Safe.
And now a side note:
As I was preparing this post, Tad pulled a piece of fabric off the counter, bringing my camera and $$$ lens with it.  As I rushed into the kitchen, I found the equipment scattered across the floor.  The force of the impact had ripped the lens and mount clean off the camera.  A few feet away, the camera–flat on its back, torn apart with small pieces of metal and tiny screws littering the tile around it–looked up pitifully at the ceiling.
A wave of nausea swept over me, and I was suddenly drenched in perspiration as I gently picked up my camera.  I sobbed.  Vivi and Tad joined me.
When I thought about the fact that BT would probably never let me buy another camera or lens, I sobbed even harder.  When I thought about all the memories that I wouldn't be able to capture, I was downright inconsolable.  And so it was for several minutes.
Wiping the tears from my eyes and my nose on my shirt, I figured out how to extricate the lens from the mount.  Picking up the tiny pieces, I tried to put humpty dumpty back together again.
My heart beat faster as I remounted the lens (it clicked!) and prayed that Vivi's pleas for safety would somehow also extend to my camera.
It turned on.  It took pictures.  The pictures appear to be properly exposed and focused.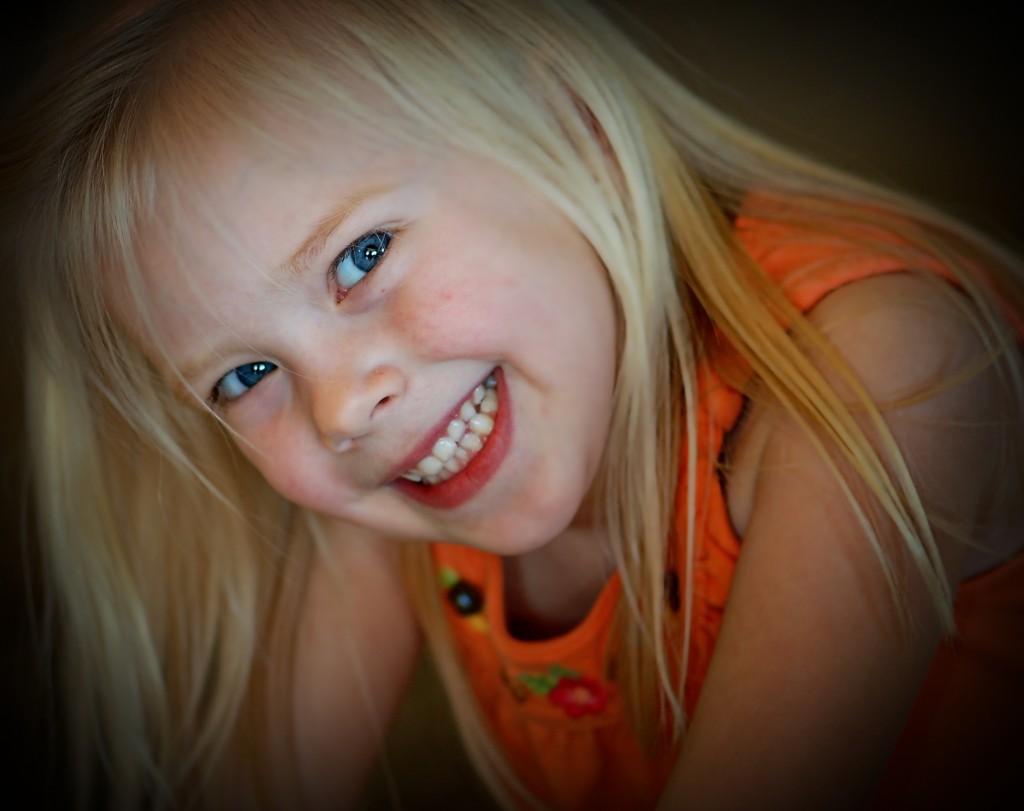 Safe?