I have a long history of making crummy rolls–more tough than tender and more heavy than heavenly.  Thankfully, with a little help from a couple friends who are expert roll makers, I've improved (but not yet perfected) my skills over the last few months. It also doesn't hurt that we are blessed to have a French-trained chef that goes to our church, and he has generously shared his wheat bread recipe with us. My friend, Megan, has adapted the bread recipe into a roll recipe, and it has risen to the top of my all-time favorite foods list.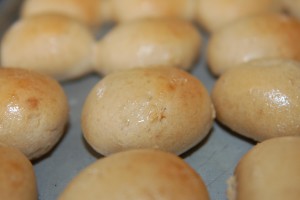 A word of warning: I'm a fairly disciplined person–I can have a candy dish full of chocolate and not gorge myself. But, I kid you not, these rolls are to-die-for straight out of the oven and I have been known to eat 3 or more (I won't divulge how many more) in rapid succession. I even forgot the shortening in the batch I made this morning, and they are still delectable.
Proceed with caution.
| | | |
| --- | --- | --- |
| C'est Bon European Cafe Wheat Bread — Adapted for rolls | | |
Author:
Total time:
2 hours 7 mins
Ingredients
3 pkgs. dry yeast (2 1/4 T. or so)
2 1/2 c. warm water
1/2 c. honey
3 T. sugar
4 c. white flour
1/2 T. salt
1/2 c. honey
3 T. shortening (not oil)
3/4 c. warm water
approx. 5 cups wheat flour
Instructions
Mix the first four ingredients–yeast, warm water, honey, sugar– in a bowl.
Add the white flour.
Mix approx. 1 minute–will result in a pancake-like batter.
Cover the bowl and let rise until double in volume, about 1/2 – 1 hour
Add salt,honey, shortening and warm water
Mix well
Add wheat flour–enough so that dough pulls away from the bowl and can be handled without sticking. Error on the side of sticky dough to avoid heavy rolls.
Mix with dough hook for 10 minutes.
Lightly spray 3 cookie sheets w/ cooking spray.
Divide dough into 3 equal portions using a dough cutter. Apparently, you're not supposed to tear bread/roll dough; you're supposed to "cut" it w/ a blunt dough cutter. Keep the dough lumps that you're not using yet covered w/ a cloth so that it doesn't dry out.
Using a dough cutter, cut off a small hunk of dough and form it into a dough ball, pulling the top of ball down from the top and pinching it underneath so that you have a smooth top. You can dust a little flour on the hunk of dough if it is a little sticky, but don't over do it because it will make your rolls dry and tough.
Place on cookie sheet. I get 20 small rolls from each 1/3 portion (60 rolls total). I fit 20 on each cookie sheet, 4 wide, 5 long. When one cookie sheet is full, cover with a dish towel and set in a warm place to rise.
Repeat until all the dough has been formed into rolls.
Bake at 350 degrees (convection oven) for 6 1/2 minutes.
Remove from oven, brush w/ butter.
Indulge.