As an enterprising young girl, I had aspirations of making buckets of money by opening my own lemonade stand.  Lemons were plentiful in our little Southern California yard; in fact, they littered the ground around the over-burdened tree at the west side of our home.  I figured that my siblings and I could fashion a table using scraps of wood from Dad's workshop, Mom could donate the sugar, and we'd be in business.  Sadly, despite my careful planning and detailed business plans, Mom would always say, "NO!"  As an adult, and thankfully one with a forgiving heart and a sense of humor, I now chuckle at the reason she gave for putting the kibosh on our plans: "You'd be operating without a business license and the police would come and get you and throw you into jail."
She loved that two-letter pet word of hers and used it often.  Before we could even get the entire phrase, "Mother, may I .  .  . " out of our mouths, she'd give her damning answer.  ("Damning," not "damn" . . . in case that matters to someone.)  I promised myself that when I was a mother, I'd say "yes" all the time.
Fast forward to reality.
Just ask my kids, I am my mother.
And so when Ariana asked if she could go shovel walks Thursday morning as a service project for her Faith in God program, I instinctively said, "no."  All she heard was, "no," but in my head, I really did have a good list of reasons:
No, it is too cold.
No, we don't own a snow shovel.
No, it's still snowing and your hard work would be for naught.
No, I'm sure you need some sort of business license to shovel walks.
And as the words leaped from my lips, I caught the look of profound disappointment in her eyes, and I was transported back thirty years.
When she showed me the clever flyer she had already created and planned to leave as an anonymous calling card on each doorstep , I became as soft as the falling show she aimed to shovel and acquiesced to her crazy but sweet plan.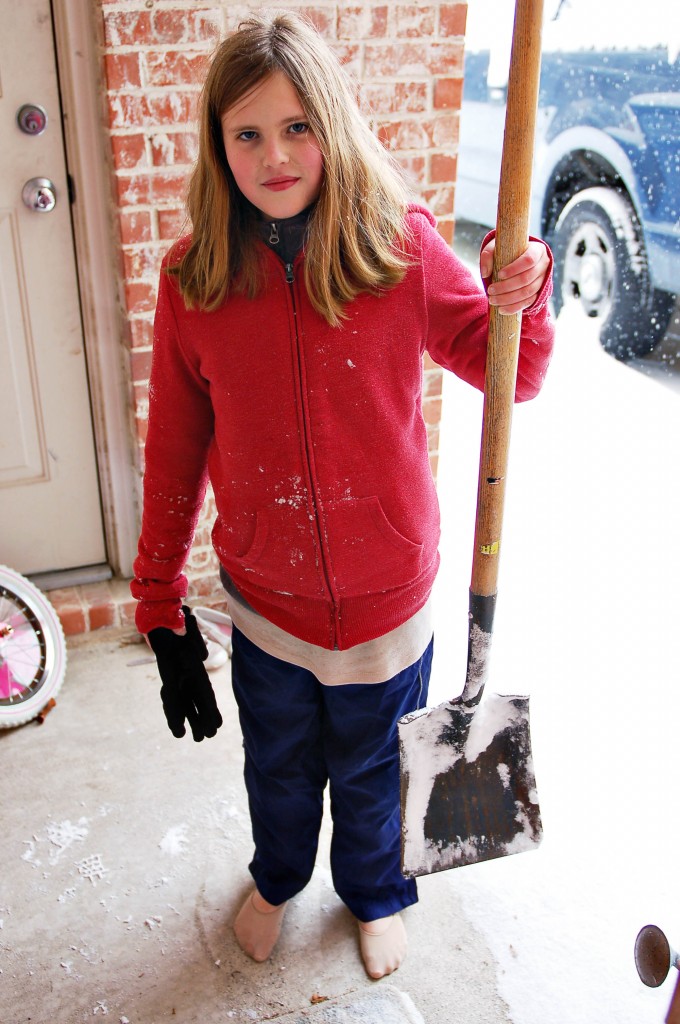 Yes, she learned a few lessons through the experience:
Yes, it was too cold.
Yes, shoveling snow with a garden shovel doesn't work very well.
Yes, the path quickly vanished under a new blanket of snow.
Whew,  Thankfully we didn't have to post bail.
But so did I:
Unless it's going to get her arrested or killed, say "yes" more.